To help us prepare a revised One Plan as part of the National Policy Statement for Freshwater Management (find out more about this process in the About section of this website) we will be undertaking numerous rounds of engagement. These rounds include previous engagement on values and our recent engagement on long-term visions for freshwater, which closed on 24 May 2022.
We're now collating all the feedback we've received and plan to publish a summary report in mid-2022. This will include draft visions and environmental outcomes. In 2023 we'll be engaging with stakeholders and the public on attributes, which are the measureable characteristics associated with freshwater. This includes the baseline states, target states, limits on resource use or takes, and environmental flows. All of this information will be incorporated into our change to the One Plan at the end of 2024, when the public will be able to make formal submissions.
If you'd like to share your thoughts on anything related to freshwater management, including the information on this site, you can fill in our feedback form at any time.
Our engagement approach
Our engagement approach is about bringing multiple streams of engagement processes together (iwi/hapū, stakeholders, community), and the shared knowledge (mātauranga, science, other information) and experiences of those people/groups, and weaving that through our existing science/knowledge to create a plan. These streams will start out separately, but they may cross over along the way and they will eventually come together at the end.
Rivers are by their nature dynamic systems; many have wandering sections with variable channels (or paths) which split and flow in parallel for some time before joining together again. In other places the water disappears beneath the gravels before returning to the surface flow further downstream. They are an apt metaphor for our approach.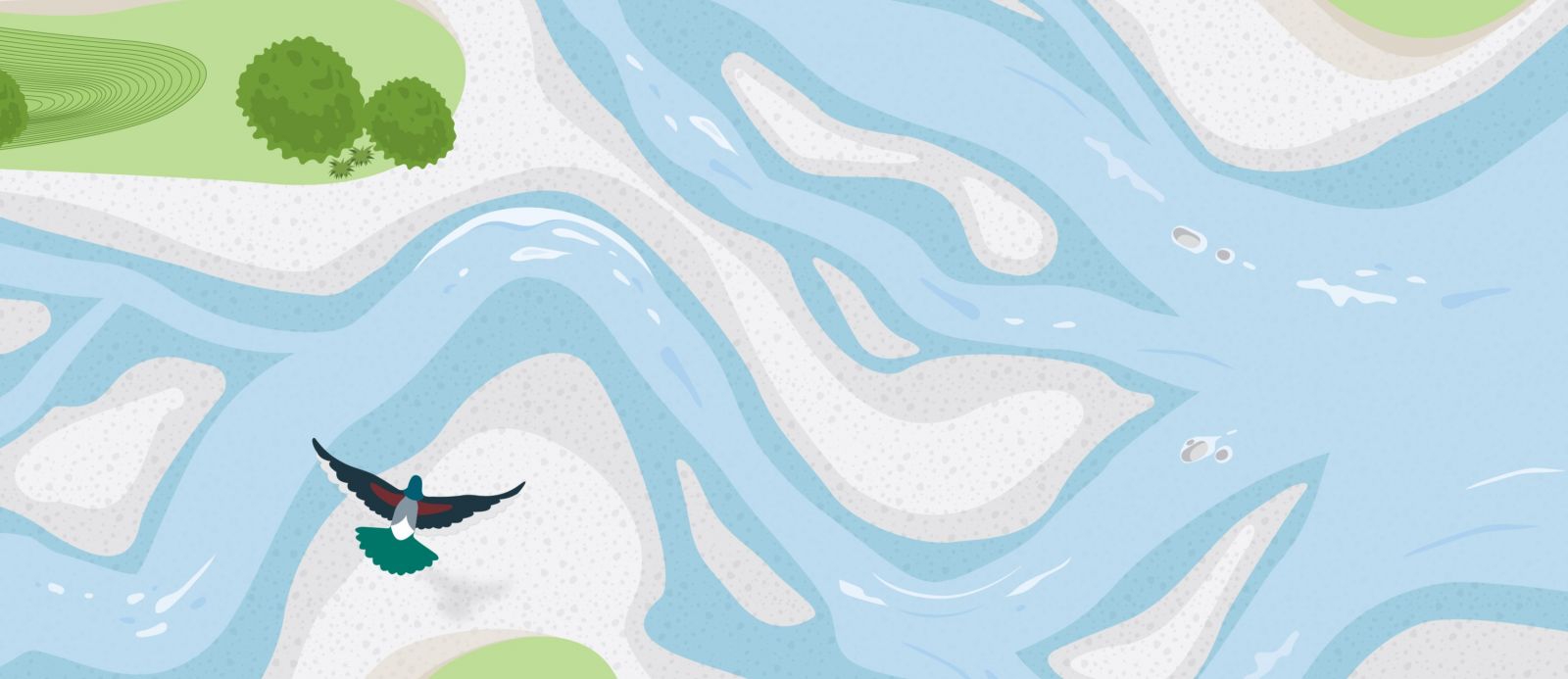 We're in the information gathering phase of the process and building up the picture of our region by collecting information from a variety of different sources through a variety of different methods.
We're working in partnership with iwi and hapū at every step of the way through an agreed process. This is occurring in parallel with broader community discussions. We're also working collaboratively with Post Settlement Governance Entities with regards to river Treaty settlements to ensure our work supports the objectives of the strategies being developed under Te Awa Tupua for the Whanganui River and provided for under Te Waiū-o-Te-Ika for the Whangaehu River.
It is acknowledged that our approach to implementing the NPS-FM in the Whanganui and Whangaehu River catchments needs to support the river settlement legislative processes and the outcomes sought in the resulting strategies.
We're engaging with communities principally via online methods given current Covid-19 settings, however, we'll also engage face-to-face where circumstances allow. Key stakeholder groups with particular areas of interest are also being engaged with.
We want to understand and embrace our communities' shared knowledge and experiences of freshwater, including mātauranga, to enable us to look after freshwater better. This knowledge will come from working in partnership with tangata whenua, and from community and stakeholder engagement. It will also come from other sources such as Treaty Settlements, Iwi Management Plans, national and regional policy documents, and our own monitoring and science programmes. We will bring all this information together and feed it into the review of the One Plan.
There will be lots of opportunities to provide input along the way between now and 2024. To make sure you stay up-to-date with what's happening and when, subscribe to our freshwater e-newsletter.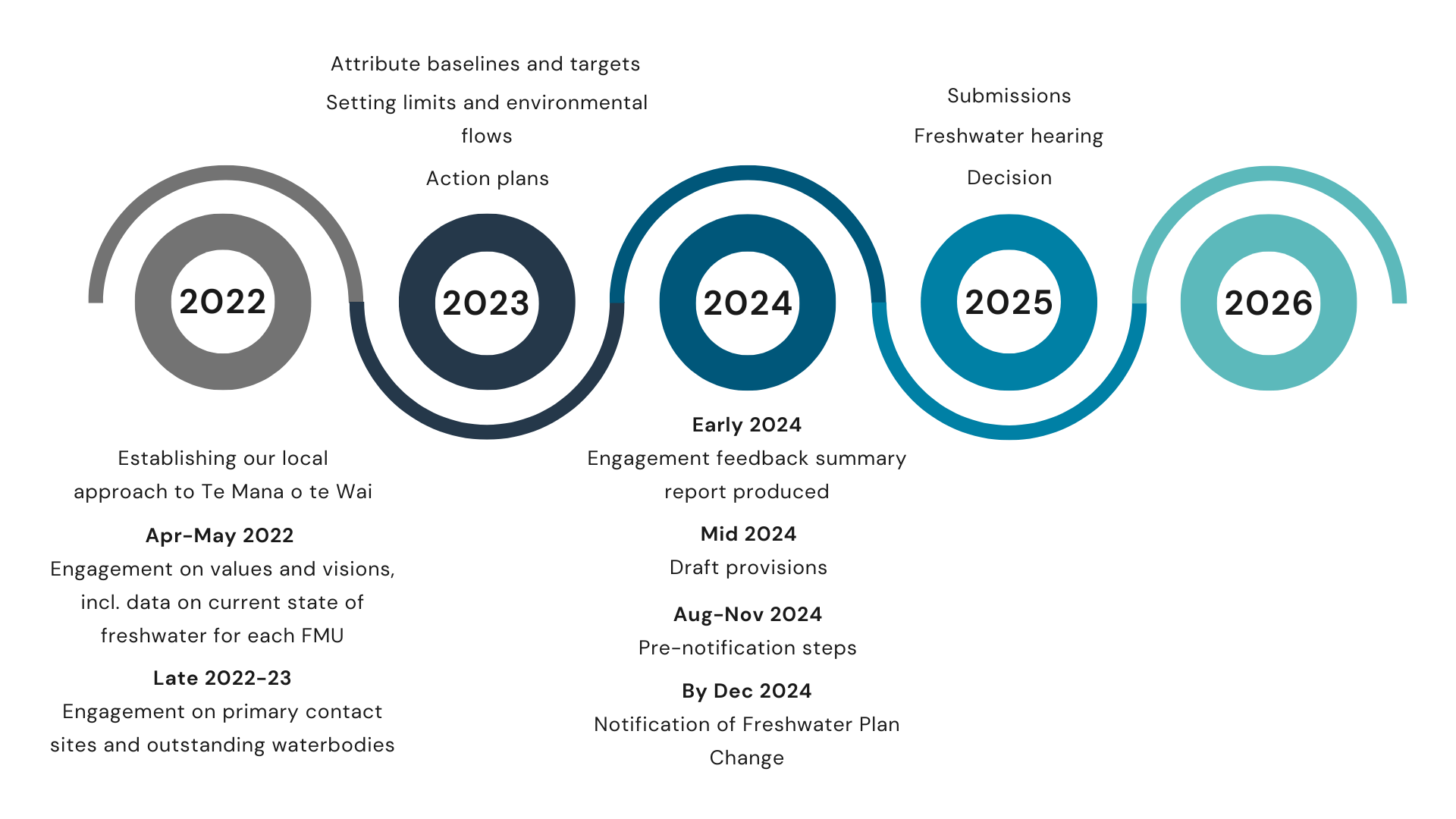 Te Awa Tupua
The Whanganui River is subject to Te Awa Tupua (Whanganui River Claims Settlement) Act 2017. A whole of river strategy, Te Heke Ngahuru, is being developed by Te Kōpuka, a representative strategy development group. It is intended that the new Freshwater Regional Plan is a contributor to the achievement of the objectives of Te Heke Ngahuru.
Te Waiū-o-Te-Ika
The Whangaehu River is subject to the Ngāti Rangi Claims Settlement Act 2019, which has established the Te Waiū-o-Te-Ika framework for the catchment.