What is Oranga Wai | Our Freshwater Future?
Oranga Wai | Our Freshwater Future is Horizons Regional Council's way to ensure you can learn about and be involved in some key changes to freshwater management in our region.
These changes began when central government launched its Essential Freshwater package in 2020, which requires us to revise our regional policies. The package and associated work are designed to help everyone prevent further damage to waterways, lakes and streams, and get water bodies and ecosystems back to or maintained at a healthy state.
For Horizons, this involves various rounds of engagement, and working with tangata whenua and other stakeholders, before notifying a change to the One Plan, our guide to managing natural resources in our region.
The Essential Freshwater package has two streams of work – the National Policy Statement for Freshwater Management (NPS-FM) and new regulations such as the National Environmental Standards for Freshwater (NES-F), stock exclusion regulations and freshwater farm plans. The NPS-FM gives Horizons direction on how to care for the wellbeing of waterways in our region, while the NES-F is a series of regulations enforced across all of Aotearoa New Zealand.
You can find information about the NPS-FM on this website, while NES-F information is available via Horizons' website (link).
Information on the National Environmental Standards for Freshwater (NES-F) - this is housed on the Horizons website.
Information on Horizons' non-regulatory programmes - across the region there are lots of people doing the mahi to support the regeneration and protection of freshwater ecosystems. This site will highlight those good news stories.
How does this impact me?
Everyone needs and values freshwater for a variety of reasons – swimming, fishing, cultural practices, running a business or otherwise.
No matter what those reasons are, we all need freshwater and associated ecosystems to be healthy. To ensure this health, we all have a responsibility to put the well-being of our waterways first. This involves taking practical management steps and relying on evidence and research, to ensure current and future generations can all continue to enjoy freshwater.
While Horizons sets the rules for managing freshwater in our region, we are now revising those to determine if they give effect to Te Mana o te Wai and what central government requires – and we need your help to do so.
We will run multiple rounds of engagement to ensure the needs and values of our community are considered. The rules will ultimately be part of the One Plan, our guide to managing natural resources in our region. Those rules will help all of us manage and care for freshwater in a way that enhances ecosystems and, in turn, the people who interact with them.
These changes are not just about regulation. We are also required to set action plans which can include non-regulatory actions, such as subsidies, community grants and education.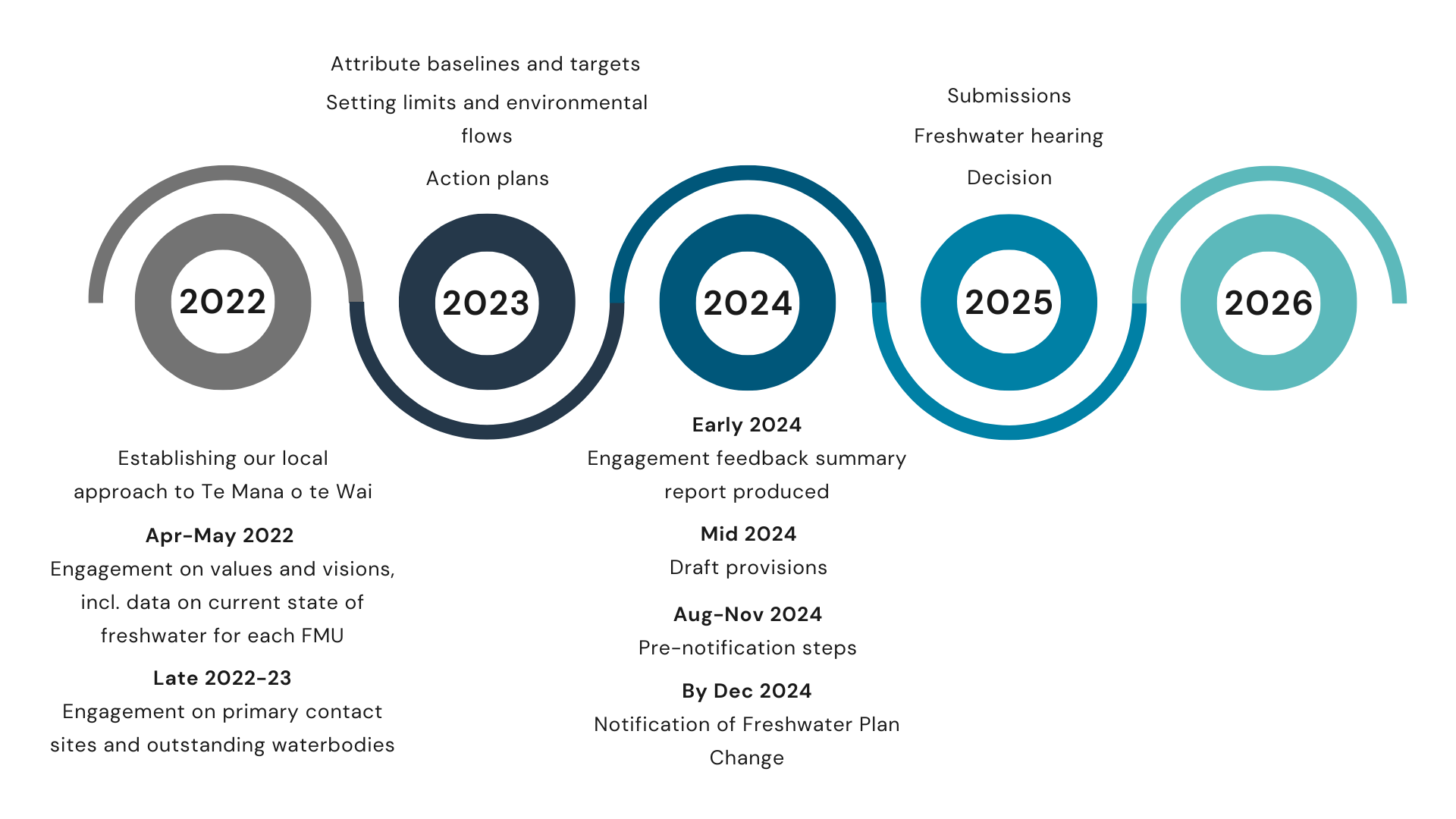 Glossary
There will be some terms used throughout this website which you may not be familiar with – we don't expect everyone to know their FMU from their MCI. We have a glossary to help in those situations.